What goes around comes around
What goes around comes around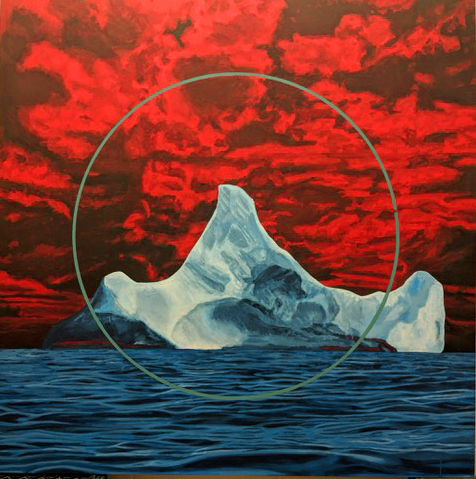 What goes around comes around
Dave Kim (2018)
48 x 48 in.
Acrylic paint, latex paint on wood panel
click to see more by this artist +
more artworks available in gallery. contact us to schedule an appointment / request images / for shipping information.
Dave Kim (2018)
48 x 48 in.
Acrylic paint, latex paint on wood panel
click to see more by this artist +
more artworks available in gallery. contact us to schedule an appointment / request images / for shipping information.
Statement | What goes around comes around
On April 15, 1912, a five-year-old Olympic-class ocean liner—the biggest in the world at the time and a modern marvel—struck a 3,000-year-old iceberg and sank. A passing ship later identified the alleged iceberg by the red streaks of paint running across its base from its collision with the Titanic, the boat "God himself could not sink." Ultimately, challenging nature proves to be a losing battle as demonstrated time and again. But the pride of man blinds us to these often tragic lessons. 
A hallmark of modern day culture is convenient consumption, and subsequently, we create waste. We greedily and often mindlessly consume resources that trash Earth, setting it on the path to its demise and ultimately depleting it of its ability to sustain us. Think about how many pieces of one-time use packaging you threw away just today, then multiply that by 326 million (the population of the U.S.) then multiply that by days in a year, the math speaks for itself. Nature consumes except gracefully in partnership with the Earth and with the sole purpose of providing for Life. Graphically, our habitual trajectory is a half circle. It appears the only way to save the Earth, and ultimately ourselves is to change our culture 
from half-circle to full circle, where everything we take from the Earth is replenished and safely returns to it. It must be cyclical, else we sink.
Bio | Statement
Born in 1979, in Los Angeles and based in Oakland, California, Dave Young Kim draws from his Korean culture and personal experiences in depicting ideas of identity, as well as the human condition. He attended the University of California Davis before earning an MFA at Mills College.
My work is an exploration of identity through looking into the past at my native Korean culture, examining my Los Angeles upbringing (the formative years), drawing inspiration from my present home in West Oakland, and looking into the future at how the human condition strips away everything and lands us at a place of common humanity.  Ultimately, my work is premised on the idea that we are all on a journey looking for that place to call home.