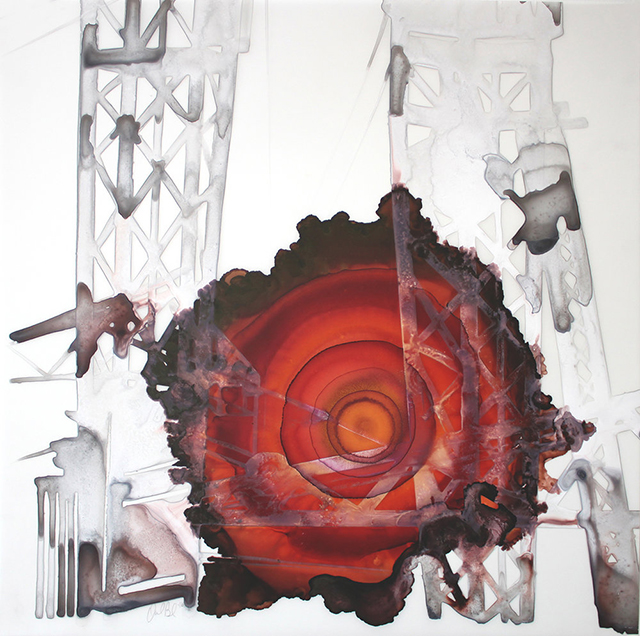 Boom Bloom
David Burke (2017)
Acrylic ink & dye on duralar
image size: 9.75 x 19.75 in.
framed dimensions: 25 x 25 x 1.25 in
more artworks available in gallery. contact us to schedule an appointment / request images/ for shipping information.
David Burke (2017)
Acrylic ink & dye on duralar
image size: 9.75 x 19.75 in.
framed dimensions: 25 x 25 x 1.25 in
more artworks available in gallery. contact us to schedule an appointment / request images/ for shipping information.
Click to read more about David Burke
David Burke is an Oakland based painter and educator whose work has been exhibited both nationally and internationally. He is the art director for the Super Heroes Mural Project in West Oakland and co-founder of the Autobody Bridge Program for emerging Bay Area artists. Most recently he was selected by Zero1 to be a part of the flagship American Arts Incubator program that sends artists abroad to collaborate with youth and underserved populations on community-based new media and mural art projects that bolster local economies, influence public policy and further social innovation.
For the last several years his work has been exploring the intersection between man-made and natural worlds. Recent ink drawings are equal parts hybrid farm animal and genetic experiment gone sideways. At a moment when scientists are pushing the boundaries of what is possible with genetic cloning and 3-D printers are programmed to print everything from food to firearms, there are bound to be missteps and deviations that produce surprising and unplanned outcomes. These pieces depict what some of these miscalculations might yield in the form of mutated animal forms with body parts that grow into and out of one another in a way that renders the creature virtually helpless. The paintings illustrate man's complex and often convoluted relationship to nature and depict instances in which theses forces both compliment one another and collide in destructive ways.
His process involves equal parts control and chaos, and echoes tenuous socio-ecological relationships depicted in the imagery. The use of synthetic material reinforces the commentary on man's impulse to consume, contain and modify the earth's resources in order to accommodate our own needs and desires. His work celebrates man's desire to build, innovate and create, while acknowledging that our impulse to grow and consume is eroding the ecological framework that we depend on to sustain our often wasteful habits.